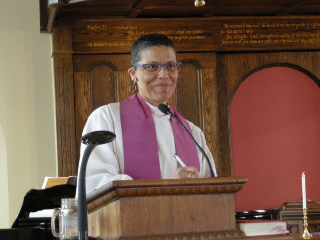 The Rev. Thérèse Samuel
Minister
Minister: Rev. Thérèse Samuel, BPE, BScPT, MASL, MDiv

The Rev. Thérèse Samuel was born and raised in the prairies, and has been Minister at Grace since January 2013.
She is a person of the spirit who is committed to her belief in the ultimate truth of the Christian faith, and is eager to share the Christian story and faith with all who will receive it. She also trusts that God offers many paths to the same ultimate mystery and she is grateful to join with people of goodwill who follow diverse spiritual paths.
As an anti-oppression educator Thérèse is especially passionate about racial justice, LGBTQ justice, and creating opportunities for settlers-of-colour and others to participate fully in reconciliation with Indigenous peoples.
Her creative endeavours include choral singing, creating chancel dramas, doodling with pen or brush, and dabbling in violin and guitar. She engages with the Holy in many ways, including as a practitioner in The Healing Pathway, and praying through dance and movement.
Thérèse returned from sabbatical on July 18. During the sabbatical she took courses in end-of-life care, congregational leadership and vegan cuisine, took time for retreat and prayer, time with family, and reorganized her office. She will be reporting back in various ways!

Contact Thérèse at [email protected]